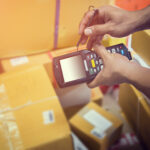 Today, stock management, warehouse organisation and order picking cannot do without a barcode labelling system for goods and documents, managed by management software and linked to databases.
These devices are invaluable, especially for operators working on warehouse and shop sites. They offer great freedom of movement and are self-contained. Once the readers are placed back on their cradle, the data collected is automatically synchronised with the databases.
Codeo offers a wide range of barcode reader terminals from the following brands: OPTICON, PSION Teklogix, Metrologic (PHL2700, Work about Pro G1 7525, Scanpal 2...).
Codeo also offers a repair service for the maintenance of your computer equipment.
Request a quote