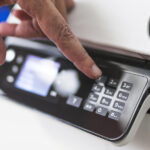 Optimise your office activities with a professional printer!
Every day, professionals need a multifunction printer in their office. It simplifies the daily tasks of printing, scanning or photocopying documents and other files, and plays a decisive role in the organisation. Contact Codeo now for your business printer purchase, and choose from all our professional printing solutions!
Find all our references and optimise your office-related purchases now. We offer the sale of major brands and models of printers such as HP Laserjet, Xerox, Kyocera FS, Brother MFC...
Request a quote