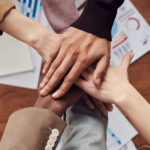 With a head office in the heart of the Lyon hills, the Codeo Group offers jobs that suit people who are passionate and committed. The Codeo Group has been involved in the circular economy since 2005 and has therefore been able to maintain its strong values even whilst expanding, allowing us still to this day to provide a strong ecological and social commitment to our employees.
See our offers
Togetherness is essential
Corporate conferences, in-house events, sport challenges… These are some of the many characteristics that make up Codeo life.
Whether it's small events or big occasions, one thing is for sure; working at Codeo is about sharing sociable moments, learning new things, celebrating big and small achievements, and simply being together.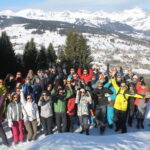 Once or twice a year, we invite all employees to get together for a company seminar. As well as conferences, workshops, and team building activities, our seminars are above all a time for our French and international teams across the Codeo group to get together to discuss the events of the past year and the vision for the future.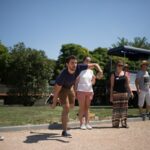 When the sun is shining and the targets are all on track, our 80 employees at our site in the Lyon countryside often enjoy their breaks outside, and sometimes with a game of boules!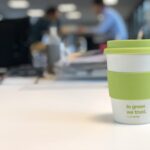 At Codeo, we are committed to involving all our employees in our eco-friendly approach by making them aware of small sustainable changes they can make to their daily routines. The principle of a Greenweek is 1 week, 1 eco-gesture, 1 challenge, 1 reward. Removing our plastic coffee cups, shopping locally, reducing plastic waste, donating clothes, recycling: these are just some of the eco-friendly changes that our employees have adopted following our Greenweeks.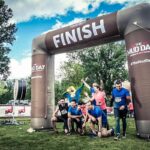 Congratulations to our gutsy international teams SakadosaKado, Go Panda Go, and Frogsbeef who represented Codeo at the Pandathlon: an environmentally conscious orienteering race organised by WWF in order to collect funds for the Eurasian Lynx.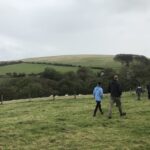 PLANTING TREES WITH THE CODEO GROUP
A big well done to our hardy tree planters who braved the elements in the English countryside to take part in our tree-planting and green space maintenance project on an 880-acre farm in Devon, in partnership with the National Trust.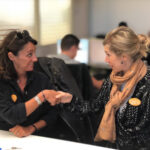 Since our creation in 2005, Codeo has always continued to grow and expand our boundaries. Yet, as with any family, even if we think we know each other inside and out, it is never easy to step outside of your daily job and try to understand the day-to-day work life of your colleagues. That's why Codeo launched 'Job Swap': the chance to spend a day in one of our colleague's shoes to learn more about their job, change our perspective, and break down any barriers between departments.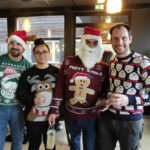 At Codeo we can definitely say that we like to spend time together. We never miss our Christmas meal, during which we do our annual Secret Santa, giving and receiving little gifts and of course wearing our ugliest Christmas jumpers!
At the heart of the circular economy
Well-being in the workplace is one of Codeo's key values, therefore we make it a priority to ensure that both our employees' daily tasks and their physical workplace facilitate their development. That's why we have created the GreenVillage: a head office surrounded by nature, and focused around the well-being of our colleagues and our local ecosystem.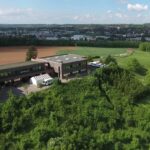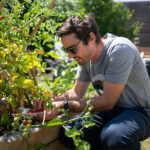 For those who benefit from a little time in nature, whether that's to have lunch, do some work, or spend some down-time with colleagues, we have our own Codeo Garden. As part of this, a team of green-fingered employees maintain a vegetable garden together, and share what they have grown with all the French teams.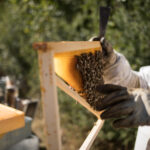 Bee the change you want to see in the world
Since April 2018 the employees at our head office have been working alongside 160,000 honeybees! In their two hives, these bees can produce up to 20kg of honey each year, which we share with every employee across the company.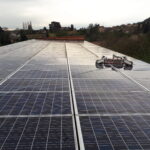 Back in 2012, we installed solar panels on the roof of our head office near Lyon. As a result, more than 30% of our energy usage comes from our solar production. And that is just the beginning; we plan to triple the surface area of our solar panels to produce 60% of the energy we consume by 2021.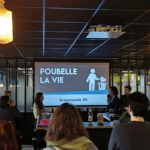 Welcome to our communal space! Both comfortable and social, like a restaurant, The 608 was created to host all Codeo internal events and to provide a relaxing space for the employees at our head office.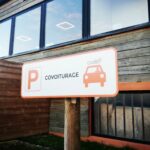 At Codeo, we actively promote the use of public transport and carpooling. Now, our employees make over 2,000 shared car trips each year! To encourage this scheme, those who carshare can use allocated parking spaces and are rewarded for each journey.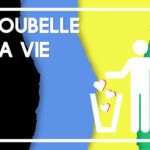 The GreenVillage is first and foremost an exemplary centre for recycling and zero waste. As part of this, we provide each new employee with a personalised 'zero waste kit'. We have a dedicated recycling area, which encourages all our employees to sort and recycle their rubbish.